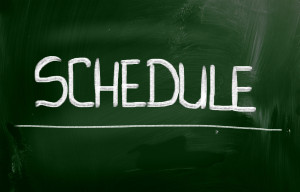 A schedule is an essential tool necessary for communicating your plan for your project. Your plan details how your project's goals will be delivered. It includes all measurable tasks, unique features and resources required to deliver them. Your plan explains what, where, and how you will deliver a finished product. The schedule acts like the messenger explaining clearly how you will achieve your plan in detail and includes the time, budget, and effort involved.
At KCM Consulting, we have worked extensively with clients to develop schedules for effective performance throughout the execution of the plan and final delivery. By having regular progress updates in place, we can identify when deviations from the plan occur and their impact in terms of cost and time. This early identification enables our clients to take proactive corrective actions instead of reactive ones to prevent projects from being halted and ensure adjustments to the project plan are made to lead to the project's success.
Putting together an effective schedule is a process with recognized milestones or decision points. These milestones help in managing the project by achieving the following:
Client identification of the significant features of the project
Prioritization and/or ordering (hierarchy) of the project features
Determination of the acceptable detail level for the schedule
Definition of project work packages
Scoping out individual activities to complete work packages
Networking activities to determine the project timeline and resource requirements
Reviewing and optimizing the network for bid ability, construction viability, environmental and sustainability (BCOES) concerns/requirements
Definition of Key Performance Indicators (KPI's) for use in monitoring the progress of the project through the procurement and execution process
Building and Implementing KPI performance reports for stakeholder information and decision-making
By taking all these factors into consideration, we are able to develop thorough and effective schedules that dramatically improve project performance and accountability. This well thought out planning process for scheduling helps our clients improve internal communications regarding details of their projects such as Scope, Work Definition, Sequencing & Logic, Resource Allocation, and What if Analysis. We work side by side with clients to develop schedules that make their project plans achievable and measurable with the appropriate level of detail to achieve desired results.
Critical Path Method Training
At KCM Consulting, our project management professionals are well versed in the methodologies of "Critical Path Method" and "Critical Chain Method Scheduling," both of which are based on the Critical Path Method (CPM). This can be very helpful for large scale projects. The information derived from applying these methods can help to determine requirements for project access, space requirements, traffic flow to the project site, the need for overtime, work conflicts, and sequencing of work to ensure completion without impact to other downstream activities. We apply these methods, calculate results, and use this information to help guide our scheduling process.
A Powerful Framework for Scheduling
By helping our clients decide how to communicate the schedule across the hierarchy of the organization, we help our clients construct a framework for project schedule utilization. Our schedules enable our clients to provide the right information, in the appropriate detail across the organizational hierarchy throughout the project or program life. It ensures that the members of the project team work together, complimenting each other and working towards the common goal of a successful project. Below is an example of a construction project schedule that encompasses varies roles and responsibilities within an organization.
Schedule Levels
Level I: Milestone Summary Schedule
This schedule depicts the time frame of the project, covers total project scope and highlights contractual and project milestones. This schedule is used by management to highlight major and significant events as well as to communicate overall scope and status of the project. This level schedule can also be used for decision-making.
Level II: Summary Schedule
Level II Schedule is summarized by facility, discipline and areas of engineering, highlighting long lead items, critical items for procurement and summarized by work packages for construction. Level II schedule establish requirements at the facility level, phase or work phase. It depicts the relationship between facilities/phases and establishes facility criticality.
Level III: Detailed Engineering, Procurement and Construction (EPC) Schedule
In the Level III Schedule, engineering is sorted by discipline, grouped by systems/area depicting system requirement. Procurement identifies demand by facility/area or systems and as well as the major equipment delivery. Construction/startup is grouped by system/area depicting interrelationships and timeframes. Level III Schedules establish the basis for staff requirements Task deliverables, material and subcontract requirements and bull release and installation rates.
The Level III Schedule establish construction equipment requirements and integrates facility/area breakdown into system turnover packages. Level III schedules are maintained on a regular basis and used for What-if analysis.
 Level IV: Identification of detailed work plan and log list
Level IV schedule is broken down at work activity level i.e., drawings, specs and data sheets). It depicts construction by work package, area, facility, craft or crew and establishes construction sequence. Level IV schedule provides the basis for detail construction work planning and rolling schedules. It is a working document that is continually updated and revised to reflect project needs and circumstances.
Once the schedule is defined, constructed and optimized, KCM Consulting is accomplished in assisting our clients in using this project baseline schedule as a benchmark to compare against progress update schedule(s). Our consultants are knowledgeable in applying key concepts of scheduling including Float, Free Float, Total Float and Negative float. We use effective resource scheduling and forecasting. This can be helpful for example in understanding the limits of chosen resources and how this can affect project delivery and completion.
We help our clients determine costs and necessary resources to achieve their project goals. We are able to offer our clients effective budgeting estimates for proper project funding by measuring performance indicators such as Earned Value, Earned Schedule, Project S-Curves and other performance-based histograms. This prevents performance slippages and helps managers proactively avoid such obstacles instead of reacting to them in crisis mode.
We can also assist with "Bucket Planning" as used in Primavera P6 for future planning by taking either costs or resources and evenly spreading them over the future activities. As the time frame for project development draws closer, we can develop schedules for these activities in detail as required. This can be done with resource curves or manually entered dependingonn what fits our client's specific goals best.
Call us today and let us help you make your project a successful journey!