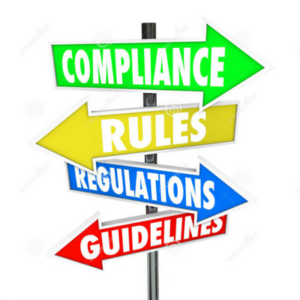 KCM Consulting helps our clients ensure Regulatory Compliance.  Depending upon the industry you are in, you will face different regulations specific to that industry. These regulations must be met for your company to be compliant legally and free to conduct business transactions. Being "regulatory compliant" means that your organization follows the laws, guidelines, regulations, and any specifications required to do business.
For example, project management for a large-scale construction project involves regulations for labor management from hiring to overtime and firing processes that need to be maintained and followed. For a physical product that is being manufactured and shipped to and from overseas, you have to keep in mind supply chain management regulations and rules specific to your industry as well as the country you are shipping to and from. For a company that sells a product online, regulatory compliance includes having PCI compliance and meeting other financial standards for security. For a software as a service (SaaS) business, there are cyber laws and regulations your company has to follow to be compliant with cybersecurity frameworks and expectations. These can include governance for information technology with regular auditing, reporting and training. For organizations that offer health-related products, it is essential that your company follows HIPAA standards and other industry-specific requirements.
Most regulations are put in place by the government to ensure the safety of employees and citizens. Today there are more regulations also in place to protect the environment including hazardous waste creation and disposal and limitations on the use of products and resources that pollute or release carcinogens. Companies and organizations that fail to meet compliance regulations are often penalized through federal fines and legal punishment.
At KCM Consulting, we have extensive experience working with clients to ensure that their projects are performed and delivered on time, on budget and are compliant with federal, state and in some cases, local regulatory policies. We know what is required and can assist you in identifying areas where you may need improvement or change in order to meet federal regulatory compliance requirements.
We recognize that projects can vary in scope, leading to changes in what regulations you may need to comply with if your projects go across state or national borders. We stay up to date on regulatory compliance standards and can assist you in forecasting new expenditures and planning out your labor, management and resources you will need to meet new requirements to grow or expand your business.
Energy Markets
Many Energy Markets are regulated and require approvals prior to projects starting and defending the project costs at the end of the project.  KCM has driven the processes and written the applications to regulatory bodies that support the request for funds upfront as well as the applications to defend the execution of the projects on the back end.  This process started with assisting with determining strategy and researching regulatory landscape and history of the client and competitors, gathering information internal and external to the client, and creating the application with the cooperation of the client executive and project execution teams.
Many of the applications required hearings that lasted several days. KCM staff supported client witnesses as they answered questions on all aspects of the application.  The responsibilities included quarterbacking the development of Information Requests and prepping the client's witnesses on the information and message.
Of course, the best way to defend project execution is to execute projects correctly.  KCM's other services can ensure that the project controls are in place in the first place.  With KCM's assistance, the client is left with processes in place and a regulatory strategy that can support it into the future.
Effective Training, Diagnostics, and Assessments
KCM Consulting can also provide training for your team and offer workforce management solutions so that you can educate your staff to meet regulatory requirements. When we work with clients, we also perform vulnerability assessments to understand any risks your company faces and to bring transparency and accountability to the forefront. We assist our clients in developing standardized processes to ensure that regulatory requirements are consistently met. We also employ a variety of tools to simplify and automate processes where possible.
Regulatory compliance can pose a complex business challenge to companies unfamiliar with the regulatory process or in need of updates to their processes. By putting in an effective process for managing regulatory compliance, you will decrease vulnerability to risk and lawsuits.
We help our clients identify applicable laws and regulations within their industry. We then assess the systems and processes necessary to meet compliance and ensure consistent, excellent corporate governance.