Province of Queensland Australia
(Performed by KCM Personnel under another company contract)
KCM personnel supported the Australian state of Queensland's' Fitzroy Region flood recovery program of 2010/2011.  KCM personnel were embedded as part of a team assessing extensive disaster recovery efforts from flood water damage to the region's transportation infrastructure assets. A result of the 2nd worst flood event in recorded history of the region combined with a king tide event on the Brisbane River, which served as the largest collection basin in the region, conspired to create over $330 million (AUD) in damages to roads, airport and railway facilities across an area of land approximately ½ the size of the State of Texas. KCM personnel engaged government agencies responsible for the sustainment, restoration and modernization of the region's infrastructure to develop the planning and controls vehicles to report current status and progress forecasts for the restoration projects at the project and program level. Personnel then coordinated with personnel from other affected regions in the state to combine recovery information for statewide reporting mechanism used to brief the government and public entities.
City of Christchurch, New Zealand
(Performed by KCM Personnel under another company contract)
KCM personnel supported the commercial properties earthquake recovery program for the City of Christchurch in New Zealand's Cantebury region.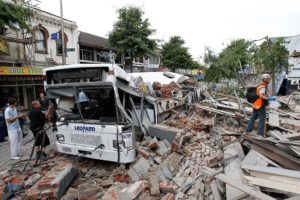 As a result of a 7.1 and 6.3 magnitude earthquakes in 2010 and 2011, the City of Christchurch experienced nearly $60 million (NZD) to 1,000 commercial buildings in the central business district and numerous other structures throughout the region. KCM personnel were engaged to assist in disaster recovery by the largest insurance carrier in the region, Vero; to investigate, expedite and make final determination recommendations.  KCM personnel assisted in the planning and management of the recovery efforts.